January 25, 2021
Kubota Aims to Open Up Digital Agriculture
Kubota will develop driverless tractors, and polishing its automatic driving technology with artificial intelligence tech from the US semiconductor company Nvidia
Moving away from its old business model of just selling farm machinery, Kubota is looking to transform Japanese farming, which suffers from shortage of workers as the farming population ages. Centered on driverless tractors, Kubota is realizing digital agriculture, which uses data to raise productivity
Illustration of farming using driverless farm machinery etc.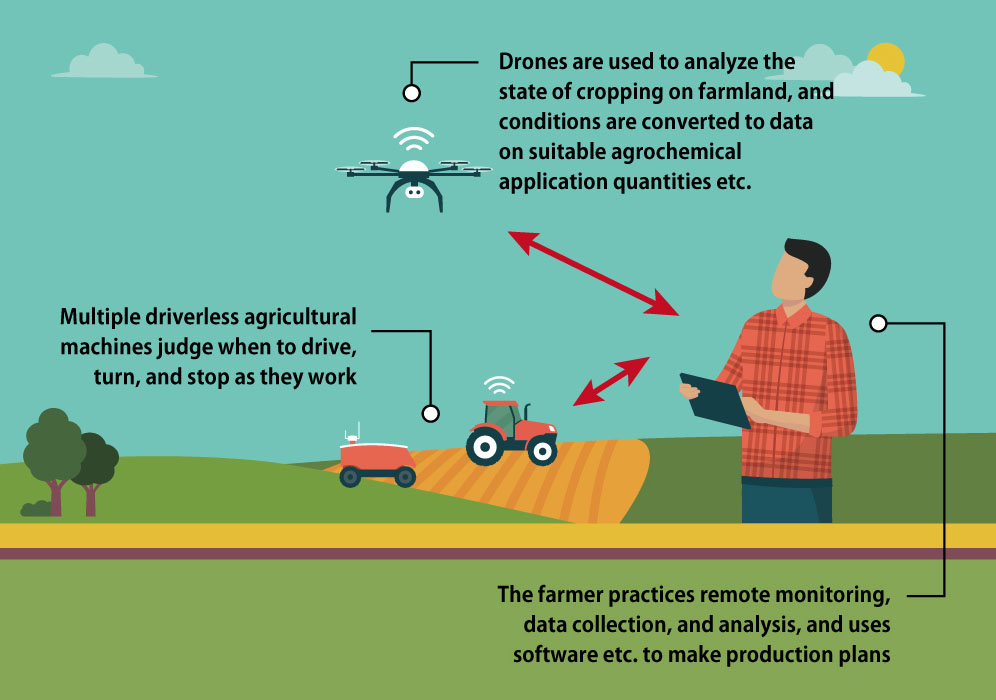 The Japan Research Institute (JRI) forecasts that Japan's farming population will drop to 1.23 million by 2030, down 40% from the 2015 level. The business of selling farm machinery alone will be in constant decline. JRI says that "Raising farmers' productivity will require self-driving farm machinery, drones, robots, and management software".
The average age of farmers in Japan is nearly 70. Manabu Shiraishi, representative of Shiraishi Noen, a farm in Shintotsukawa-cho, Hokkaido that grows rice and other crops, says "Farming that cultivates large areas with limited numbers of people is essential". There's not much time left to achieve digital agriculture.