May 18, 2020
Twelve Business Types Hit Hard by the Coronavirus in Japan
Numbers of bankruptcies related to the novel coronavirus have started to be reported since February 20th, caused by a sharp drop in inbound demand as the entry restrictions etc. that began in February reduced numbers of tourists coming from China and elsewhere. The number stood at 139 companies, as of 16:30 on May 12th. The breakdown by business type is led by inns and hotels (34), bars and restaurants (14), and apparel and general merchandise retailing (13). Of the 4.21 million companies in Japan, 99.7% are small and medium businesses, and 0.3% (12,000) are large corporations.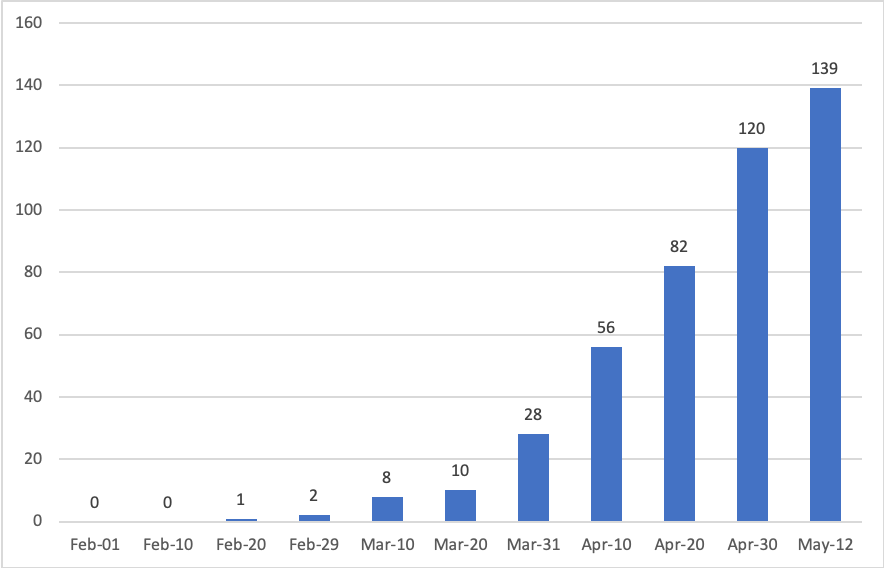 Source: "Distribution of the timing of bankruptcies related to the novel coronavirus", Teikoku Databank
Bankruptcies differ from closures. In 2019, there were 8,383 bankruptcies, meaning cases of legal liquidation, in Japan. The number of closures, in which managers stop operations because they can see no way forward, is estimated at 43,348 cases, five times higher.
Since mid-March 2020, calls began to be issued for people to stay at home and refrain from holding events, putting the brakes on consumer behavior. The government declared a state of emergency on April 7th. That is not the same as the "lockdowns" used overseas, with orders for restraint backed by penalties, but the governors of the seven targeted prefectures and cities strengthened their calls for people to refrain from going out except in cases of urgent need. Businesses other than the infrastructure of daily life were basically called on to shut down. The seven cities and prefectures targeted by the declaration, out of Japan's 47, had a combined GDP (Gross Domestic Product) of around JPY260 trillion. They account for around half of Japan's total GDP.
The Japanese Economy is Facing its Gravest Postwar Crisis
At a press conference on April 7th, Prime Minister Abe stated that "The Japanese economy is facing its gravest postwar crisis". Looking at globalization as the cause of the spread of the novel coronavirus, some are even pointing to the movement of goods, not just people, in world-spanning supply chains and the import/export of foods, as a risk factor. That's because if any one country falls, the crisis compounds and spreads in chain reactions. The Japanese economy is approaching the critical moment which will determine whether it falls into long-term decline.