June 28, 2022
Ajinomoto works jointly with Mitsui to develop new products for "Generation Z" who are born after mid-1990s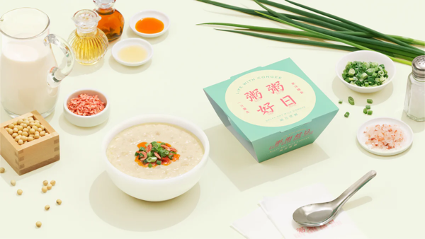 (Photo from online site https://kayukayukoujitsu.jp)
Ajinomoto will launch a three-color "instagrammable" congee based on Taiwanese and Korean cuisine toward the end of June, proposing it as a guilt-free healthy snack. Ajinomoto's main customers are women in their 40s and older, and there were few products for young people in their 20s. Ajinomoto will cultivate demand for younger generation with new products that match the tastes of Generation Z.
The new product will be marketed under the name of "Life with Congee" brand. It is a congee containing Taiwan's soy-milk soup, and Hong Kong's "hot pot." They can be cooked in a 600-watt microwave oven in about 1 minute 30 seconds. Dried shrimp and red chili oil are added separately to recreate authentic taste.
Ajinomoto's research revealed that Generation Z does not want to spend a lot of time on their regular meals, but there exists a strong need for "easy and nutritious meals". Ajinomoto just opened a limited-time store in Shibuya Scramble Square for 10 days starting 24th June. Their plan is to sell 12,000 meals during this period.
The company will consider full-scale development by the end of the year after observing sales trends in e-commerce etc. Ajinomoto is also looking to expand their sales channels to convenience stores and other retailers.