November 2, 2020
The Okura Tokyo
Dining Experiences for Encountering Japan's Terroir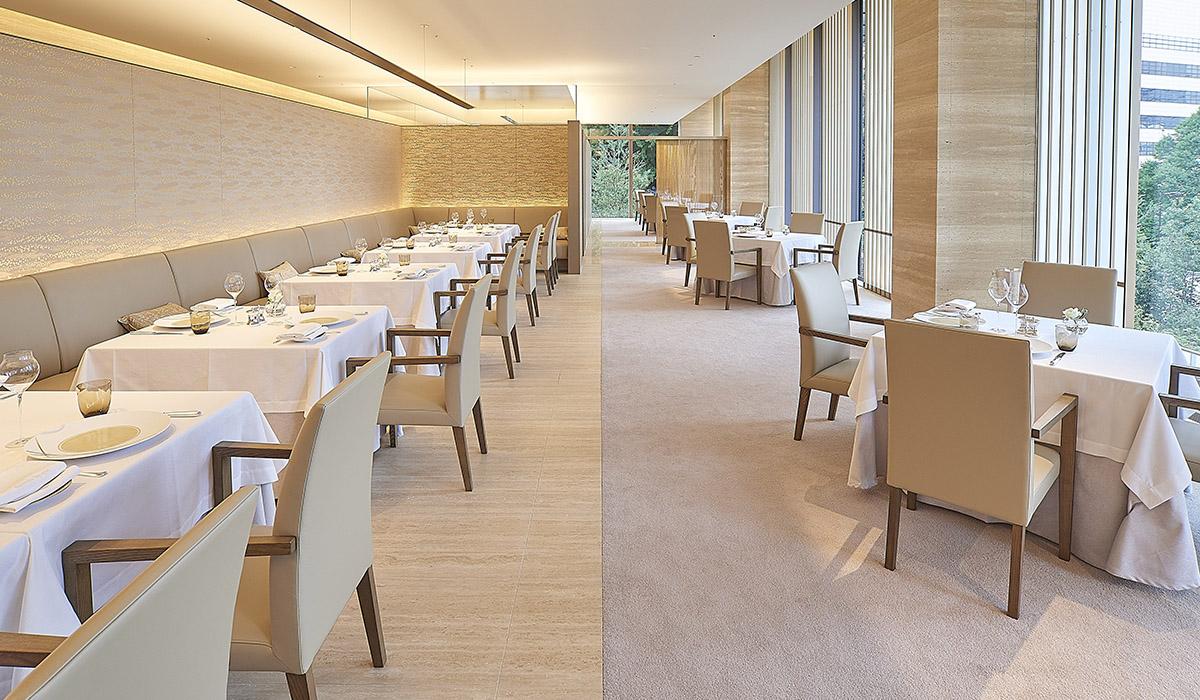 The Nouvelle Epoque of French cuisine began in September 2019, when The Okura Tokyo opened. Chef Tetsujiro Takahashi is seeking for dishes that are founded on the classics, but also present "health and gastronomy" by using the seasonal ingredients of all parts of Japan, together with the country's culinary culture of fermented foods.

What kind of dining experience can people expect from Nouvelle Epoque?
Changing direction from classic, traditional French cuisine, we serve Okura French cuisine, using Japanese ingredients.
Japan has culinary cultures with regional roots, and a culture of fermentation. We head out into production regions and talk to producers, to discover new ingredients and pieces of fermentation culture that have been hidden in those communities. We then reconstruct and serve our discoveries.
We serve dishes which, by their appearance on the plate, give the diner an image of the scenery or character of those source regions.
What are some popular Nouvelle Epoque menu items?
First of all, there's traditional French cuisine. Those also use Japanese ingredients, but many others are directly imported from France. Items using foie gras are popular. Dishes using organic vegetables, which we have sent from Noto, Ishikawa Prefecture every week, are particularly popular with embassy staff, health-conscious diners, and vegetarians. We change the menu every 2.5 months, because of the ingredients.
How do you go about choosing and sourcing ingredients?
I head out to Toyosu market at around 4am, think about the menu while I'm looking at the ingredients, and make my choices. I sometimes go to Niigata to make sake. I start from scratch and work with producers to search for ingredient ideas, and get inspiration from that as I choose ingredients. I also imagine the air, scents, and scenery of that land and think about how to express them on the plate, then pick ingredients within that kind of process.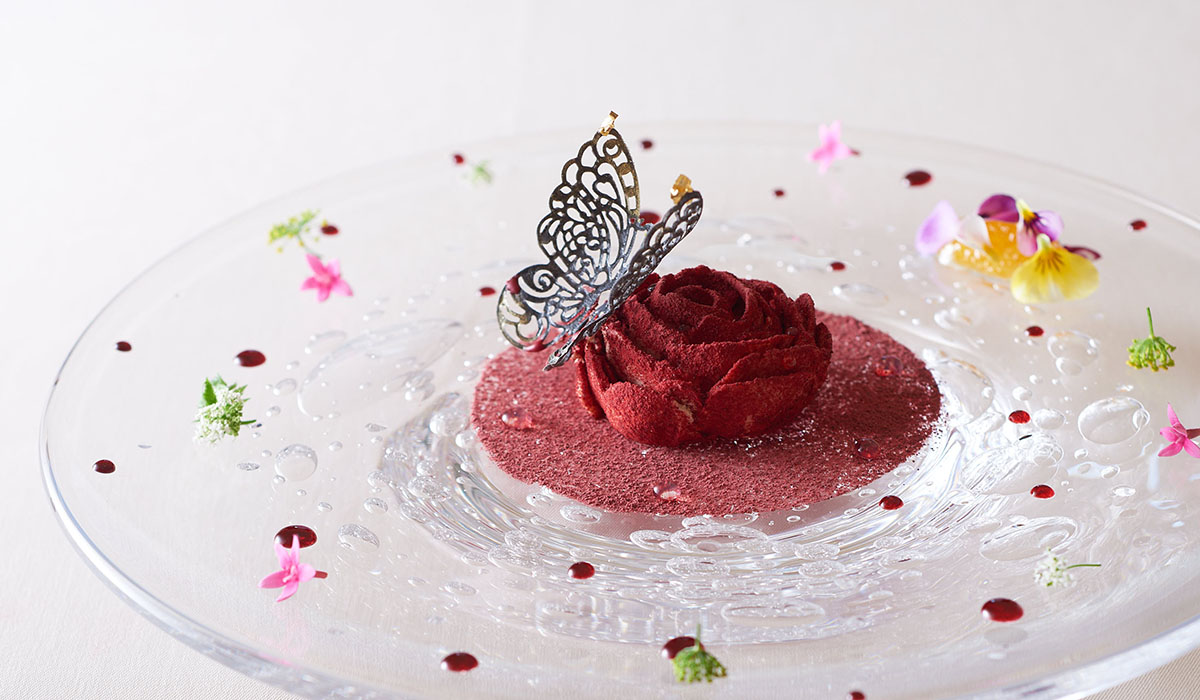 What new recipes and menus are you working on?
It's all French cuisine that people can eat healthfully, under the concept of health and gastronomy. The Okura Tokyo is a Japanese modern hotel, so we use things like tableware made by Japanese artisans, as we cook dishes that weave Japanese tradition and French esprit together. We decide on menus about two months in advance, and take ingredients that will be produced and consumed in two and a half months and match them with other ingredients. Then we consider combinations as we create the menu. We use the foods that are in season at that time, and there's nothing left at the end of the two and a half months. I want to express that evanescence on the plate.
What does "omotenashi" mean to you, as head chef?
It means making the guest feel at ease. We aim to be an approachable restaurant, and our idea of hospitality is to have guests relax at their ease, so that they want to come again. We greet our repeat customers not with "irasshaimase" (welcome), but with "okaerinasaimase" (welcome home).

The Okura Tokyo opened on 12th September 2019, offering a signature combination of "traditional luxury" and "contemporary luxury"
Why did you choose to become a concierge?
While I was job hunting, I discovered the job "concierge" in a pamphlet introducing the hotel industry. I'd never come across the word before. The job description said "person who takes care of everything", and for some reason that resonated with me, and I got interested in the career. At the job interview, I declared "I'll establish the concierge desk myself!", and joined the company. When I joined, there was a department running concierge work, but it was called by a different name. Thirteen years later, the "concierge desk" was ready, and I became the chief concierge.
What makes being a concierge the most fun or worthwhile?
A concierge is ready to help in any way that's not against the law, and tries to achieve what the guest wants to the fullest extent possible, using all the ideas and connections he or she could. For example, when I fulfill customer requests with the cooperation of overseas Les Clefs d'Or members, the customers are surprised and delighted, and I find fun and satisfaction in my work.
Do you have a moving story with a customer?
An Indonesian guest in his 20s asked me to make him reservations for high-class restaurants. He contacted me by email a year before he was scheduled to come to Japan, wanting to stay for around two weeks and asking for lunch and dinner bookings for each day. In that process, some restaurants refused bookings from new customers without introductions, but when I earnestly felt the customer's passion for food, and explained that passion to the restaurants, they decided to accept the bookings and the customer was delighted.
When the same customer visited Japan on another occasion, he stayed at a different hotel, but when he asked the concierge at that hotel, he didn't get sympathetic service. After that, he contacted me to say "I realized again that you, Mr. Hamasaki, are one of the world's best concierges!", and that made me very happy.
What's the most important thing for a concierge, or the thing you strive to do?
Building personal connections. When a customer has a request, you can't always get them what they want by working alone. The biggest weapon for Les Clefs d'Or members is being in a group of around 4,000 colleagues around the world. Even if you can't solve a problem alone, it's good enough if someone can get there for you. In customer service, we often deal with foreign visitors to Japan, so I'm always conscious of being a "private-sector diplomat", and I guide younger colleagues to think the same way.
What do you see as "true hospitality"?
We want to make someone happy without looking for anything in return, and we're ready to give our all, make any preparations, and take any action to that end.