March 26, 2021
The Capitol Hotel Tokyu
The Principle of Fluidity and Immutability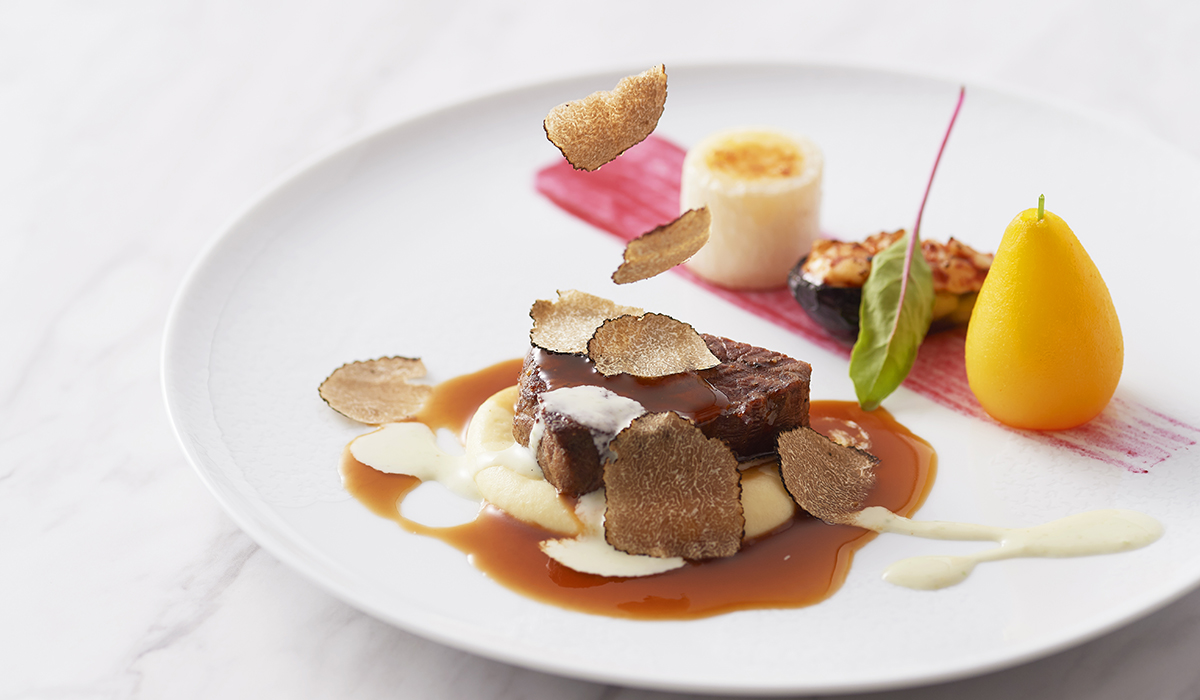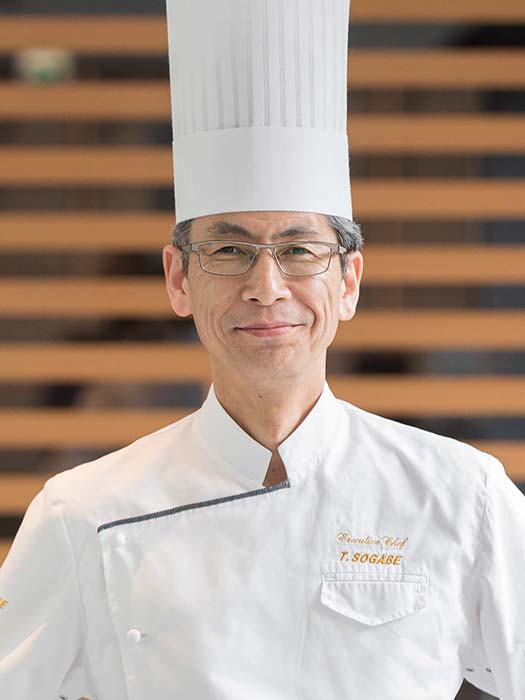 Toshinori Sogabe, Executive Assistant General Manager, Executive Chef
What triggered you to leap into the world of cuisine?
When I was in elementary school, my parents used to tell me to read the newspapers, and I started doing that every day, from around third grade. At that time there was a chef named Miyazaki at the Imperial Hotel who was famous for sauces. I read an article saying that he made 3,000 types of sauces and thought "hotel chefs are really cool".
At home, my parents ran a diner, and from my childhood they'd take me with them to all kinds of Japanese, Western and Chinese restaurants, calling it "study". I also liked drawing, but I thought I couldn't make a living from drawing, so in the end, I chose cooking.
You have two titles of Executive Assistant General Manager and Executive Chef.
In the first year I entered and worked at the first hotel, I was taught by the executive chef there "you're not just a hotel cook, you're a hotelier". He continued "If you're walking through the lobby and a guest asks you something, you have to answer, even if you're the cook." I was taught that a hotel is a place where everyone has their own role and works as a team to keep the guest happy from the moment they enter to the last moment they leave, and then sends them home smiling. I think that's why I'm also the Executive Assistant General Manager.
What kind of dining experience can guests expect at The Capitol Hotel Tokyu?
We have a new lineup of gyudon (beef rice bowl) at All Day Dining "ORIGAMI", as well as high-end tantanmen noodles at Chinese restaurant "Star Hill". Those are turning into famous specialties. The All Day Dining "ORIGAMI" on the third floor a unique mix, so that one diner might be eating pako noodles while the next could be eating a prix fixe meal. It specializes in French cuisine, so it serves highly individual dishes. All Day Dining "ORIGAMI" flexibly adapts to the individual needs of each diner.
What menu items are popular with foreign diners?
This was originally an American-style hotel, so generously-sized items like Jumbo Burger are dpopular. We also serve a lot of T-bone steaks and other steak types.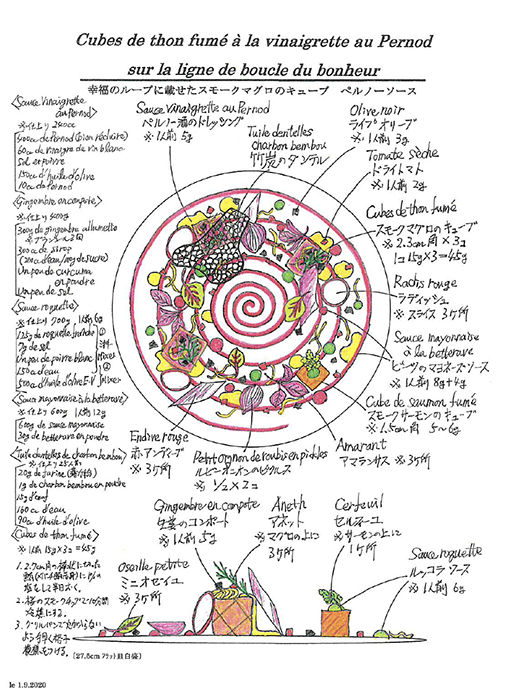 I gather that you make direct connections with many customers.
I create handmade recipes every time menus for my dishes are changed. I've always done it like that, and guests are delighted when I show and serve them those dishes.
For example, when the couple picks the dishes for a wedding course meal, I might secretly write their names on the menu card to give them on the day. I draw with a 0.1mm fine sharpie and color in with colored pencils. The other chefs look at my drawing and prepare the dish.
What is your greatest mission as Executive Chef?
My mission as Executive Chef is to set the right balance between the history of the Capitol Hotel Tokyu so far, and its new history, while maintaining its immutable roots. I think we must produce food for Japanese people and food for foreigners, with both at a high level.
I hear you do some unique things with employees in the hotel.
We go on company trips twice a year. When new (first year) employees join us, we take them and more senior colleagues to a camp on Mt. Takao in Tokyo, and on a trip to Tsukiji and Toyosu Fish Market, to familiarize new employees with their workplace. We go to Tsukiji in the morning, walk around, having the businesses there show us everything, and we have a meal. We build teamwork as a kitchen team through events. So when something happens, everyone immediately pulls together to help out, it doesn't matter whether they're Japanese, Western, or Chinese.
What does "omotenashi" mean to you?
"Immutability". I want to give everything I have to every guest. I want to give them everything, from skills to service and reception. The key point for the hotel itself is how much the person in charge of each job can do for the guest, from when they come in the door to when they go home. I'm in charge of the culinary department, so I think about how much hospitality I can show the guests in that context.
---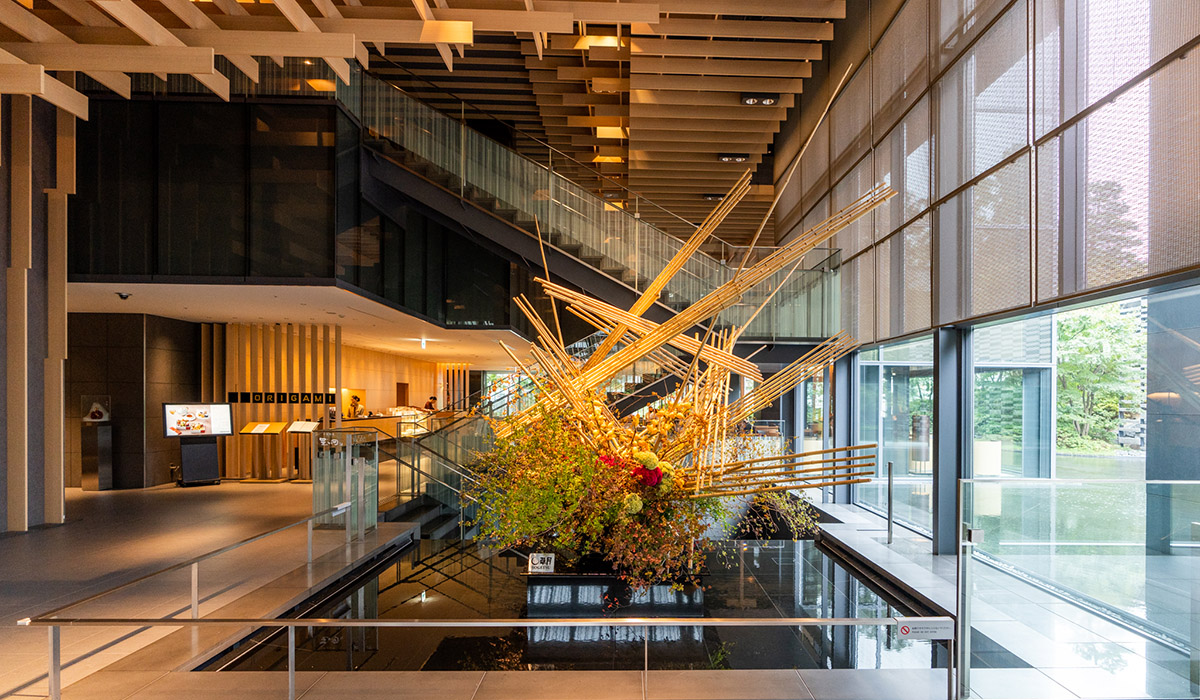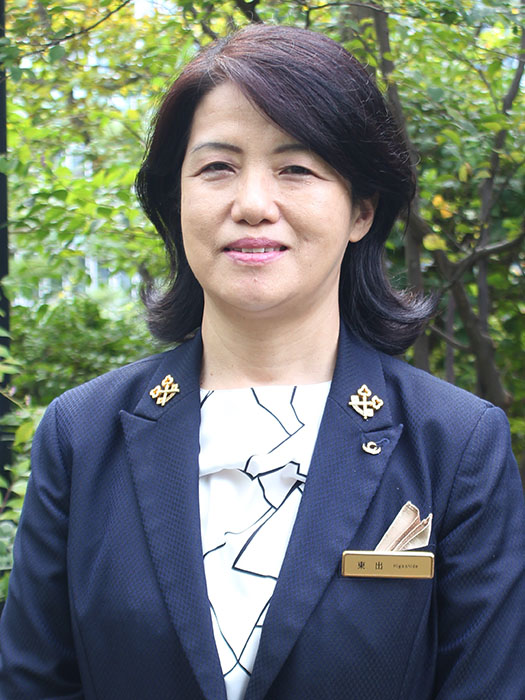 Etsuko Higashide, Executive Concierge, Member of Les Clefs d'Or
Why did you choose to become a concierge?
I got interested when I learned that the Hotel Century Hyatt was opening in Shinjuku, so I took the company entry exam. I learned about concierges there and thought "I'd like to try that"! After that, I was able to go to the Hyatt in Singapore for overseas training, and that was where I first learned of the Les Clefs d'Or professional organization for concierges. I came to realize that being a concierge is a job I can put my whole life into.
What do you strive for as a concierge?
I strive to know the customer's background, and to maintain my own identity as a Japanese person, so that I can introduce people to Japan's culture and customs as I make service arrangements for them. Now, amid the coronavirus crisis, I guide people with the advice that "Japan is becoming a mask culture, so if you want to spend your time comfortably in Japan, you'll be more comfortable if you have a mask with you". One piece of advice helps someone from another country understand Japan. A concierge is a "private-sector diplomat" who makes two-way communication real.
What makes the work of a concierge worthwhile?
In the work of a concierge, you can put your daily life and experience, the things you think about every day, and your miscellaneous learning to good use. Weddings, births, and a lot of other things happen in life, and I've come to believe that every single one of them is certain to crop up in my concierge job.
Could you tell us a moving story with a guest?
Around 1995, when the Internet was starting to catch on, a guest from the USA asked me to put together a schedule for a one week stay in Japan. After he went back to the USA, he wrote online about his experience of staying in Japan. One time I was told by our staff "Etsuko, there's a customer waiting for you in the lobby. They're saying it has to be you". I was wondering who it was, and a colleague showed me that web page. After that, many people came to the hotel and asked for me to put together schedules for them. That was a striking and unforgettable experience.
What are the differences between concierges in Japan and overseas?
I think the way a concierge feels is the same for every one. For those overseas, they may not get tips if they don't appeal to guests. In Japan there's a tendency to do things for people for your own loyalty, regardless of whether or not those people notice what you're doing. I've been advised before by foreign guests that we should make our service more obviously appealing. In my heart, I think it's good enough if people notice what I do even if I don't make it obvious. That's because in the work of a concierge, you can make use of everything you experience in daily life. There's a Japanese way of doing things, but I think it's good that there are all kinds of concierges.
What do you pay particular attention to as a concierge?
To keep on learning and gathering information all the time. To value networks and get to know many people I can trust. Networking with business operators is also very important, and the work of a concierge means making connections with people who you can trust to provide good service through you. It's also important to know people at guests' destinations who will look after them as well as we do, and I'm always trying to increase the number of key people I can be sure will get things right.
What kinds of stay experiences do you want guests to have?
This hotel was designed by the architect Kengo Kuma, and last year we got a Forbes Five Star rating. There's a hotel like a box, and we fill it with the water and greenery of nature, light, the works of Japanese authors, and things like that. I want people to rest and heal amid the feeling given by quiet Japanese taste. There isn't the showy beauty of foreign-capital hotels, but I want people to experience Japanese taste in the guest rooms and in the lobby with our refreshing guest service.
What do you see as "true hospitality"?
I want to provide service that feels like a fresh breeze blowing through the heart. I aspire to provide service so that, if people notice that breeze blowing through, they feel it refreshed them, and something remains in their heart. I think true omotenashi means getting closer to the guest's feelings and presenting them with time that will remain in their heart and their memory.