Ganko Yamano Aiko-tei Restaurant Review
By Kayla Kremer
Explore the seasons of Japan with the refined and sensitive aesthetics of kaiseki. There are three seasonal themes in kaiseki: "shun" (currently in season), "nagori" (previously in season), and "hashiri" (soon to be in season). Dishes will combine these themes to provide diners with the experience of transition and change in the season.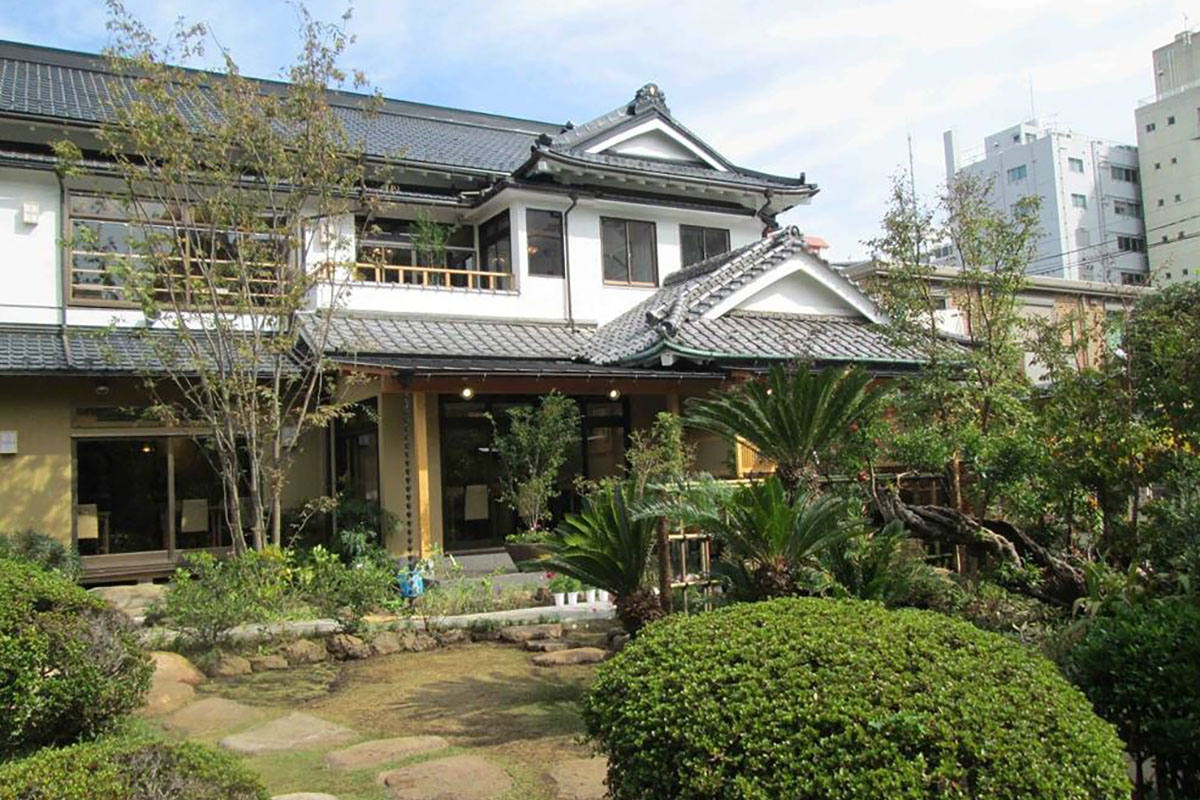 Experiencing the pleasure of Japanese cuisine is a must for any Nippon-bound traveler. For an authentic meal rich in both tradition and taste, kaiseki is the best Japan has to offer. Similar to Western haute cuisine, kaiseki is a multi-course dinner that balances flavor with presentation. It truly is an art form where dishes are handcrafted by a chef and served one by one in a special order. This allows for each dish to be individually admired for its aesthetics and savored for its flavor.
So where is the best place to eat kaiseki while on a traveler's budget? Look no further than Ganko restaurant in Shinjuku, Tokyo. Just a three-minute walk from the Higashi-Shinjuku Station (Exit A1), Ganko's location is both convenient and easily accessible. It's traditional ryokan exterior and peaceful ambience is the perfect retreat from all the hustle and bustle that makes up Shinjuku. Each dining room features traditional tatami flooring, so diners are required to take off their shoes and store in lockers at the entryway. The rooms also all have window panels, allowing for the garden's beauty outside to be appreciated. The female staffs wear kimonos and their service is both prompt and graceful. The overall atmosphere is reminiscent of Kyoto, the old capital of Japan.
Dining at Ganko was a truly memorable experience for me. Having never eaten kaiseki before nor knowing much about it, I wasn't sure what to expect from it. After being led into my own private tatami mat room, I had the pleasure of meeting the head chef, Masaki Okino, who explained to me the ingredients in each dish as well as the cultural significance of its presentation.
The first course was promptly served and I was impressed by how much detail and care had gone into its preparation. It consisted of bite-size pieces of several foods such as radish, okra, tofu, sushi, and grilled fish, which acted as a preview of later dishes to come. Most notable in terms of aesthetics was the jelly, a gelatin in the shape of a fishpond with carrots made to look like a goldfish inside it. The chef explained to me that only fresh seasonal ingredients are used in kaiseki dishes and that the overall theme for the aesthetics of the dishes centered on a flower currently in bloom called shoubu, a Japanese iris, outside in the garden. He then recommended that I eat the foods starting with the vegetables which are most subtle in flavor and building up to the foods, such as the grilled fish, which are most rich in it. I was glad I followed his advice because I believe the build-up of flavors accentuated each bite I took and allowed for me to appreciate the sophisticated balance of ingredients.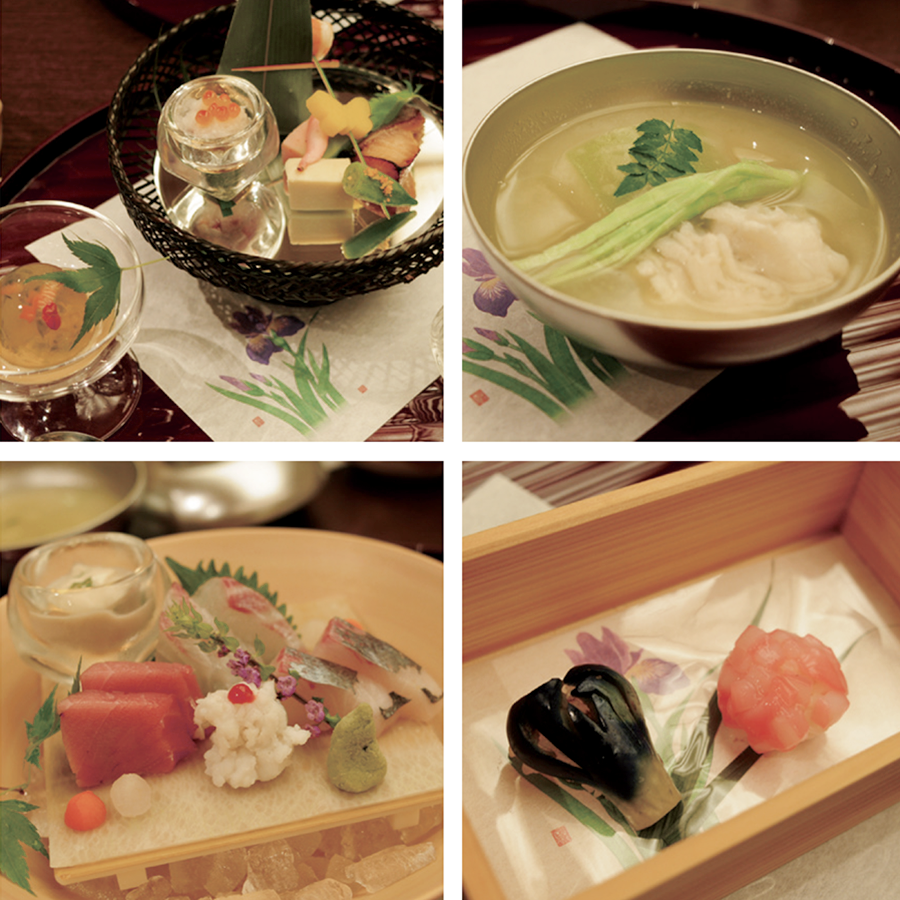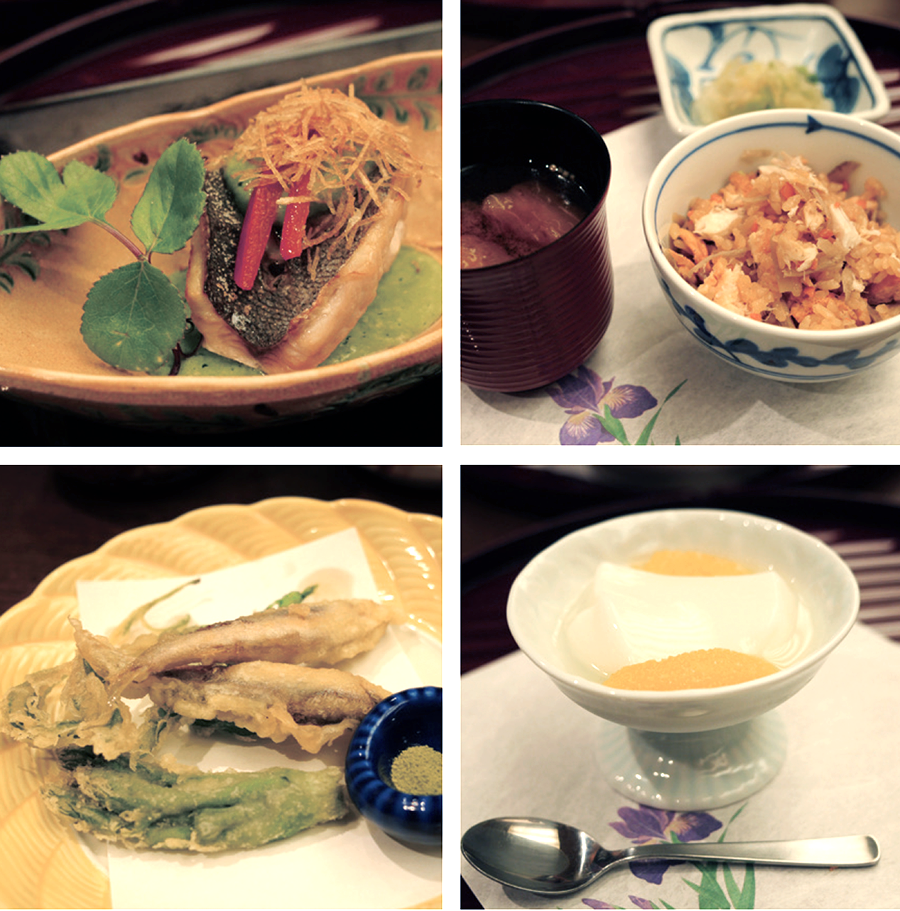 The course that followed consisted of a soup made with baby bamboo shoots and tougan (winter melon). This was paired with a fish called aburame. The soup, while bland in flavor, had a nice thick texture and the warmth it provided was a welcome change to the cold vegetable and fish dishes served thus far. Next up was the sashimi course, which consisted of maguro, tai, hamo, and shima-aji. This was accompanied by yuba (tofu skin) mixed with crushed tofu. For those not wanting to consume raw food, take heed that sashimi is one of the standard course served in kaiseki. The selection of the fish and other dishes varies in accordance to the season. The selected items are either in season (shun), was in season (nagori), or would soon be in season (hashiri). This allowed for the diner to be able to enjoy the past, present, and future all at once in one dish. All of the sashimi was some of the freshest I had ever tasted and that is because all of the fish prepared at Ganko is purchased and delivered earlier on the same day it is served.
Following the sashimi course was eggplant and squid sushi made to resemble flowers of shobu and ajisai, respectively. Shobu represents the "shun" flower, while ajisai is the "hashiri" flower that will be in full bloom in June. Out of all the dishes served, I found the aesthetics of these flower sushi to be the most beautiful. So beautiful in fact that I did not want to pick it up with my chopsticks to ruin its intricate and delicate design. But I gave into the temptations, devoured each one, and enjoyed the subtle sweetness they provided. Accompanying the sushi was more tofu, only this time it was made from green soybeans. The chef informed me that all of the tofu served at Ganko was handmade at the restaurant and this particular variation was a definite favorite of mine.
After the sushi course was the highlight of the kaiseki, the main dish or dainomono. For the main event, I was served a large portion of isagi fish that sat atop a thick and creamy green sauce comprised of peas, and was topped with fried potato shavings. This dish was definitely the most filling and richest in terms of flavor. The potato shavings were salty and crisp, which complimented the fish quite well. The sauce had a nice texture and all the ingredients together melted harmoniously together in my mouth.
After feeling somewhat full by this point, it was nice to have a break and wait for a bowl of rice called kamameshi to cook in front of me. It took about twenty minutes before it was finished, but the timing seemed just right. The rice mixture consisted of more tai fish, carrots, and fried tofu. Red miso soup along with deep fried vegetables and fish called chiayu (baby sweetfish) from Lake Biwa were quickly brought in soon afterwards to accompany the rice. Again, the balance of ingredients was emphasized here as the rice helped the flavors of the fried food from becoming too overpowering.
No meal is complete without a dessert. For the finale, I was served annindofu, which is made from apricot kernel, agar, and sugar. Two slices of orange were served on either side of it. The dessert was light, satisfying, and the perfect conclusion to a meal set with this many courses.
Overall, my experience of eating kaiseki at Ganko was very satisfying and exceeded my expectations. I felt it was one of the most authentic Japanese restaurants I've dined at since moving to Japan. If you happen to be visiting Japan and are looking for an affordable and authentic meal with the highest quality ingredients that captures the true essence of Japanese cuisine, then make sure to check out Ganko during your stay.