June 22, 2020
Glamping is a Travel Style in the Spotlight for its Low Risk of Covid-19 Infection
Series (1)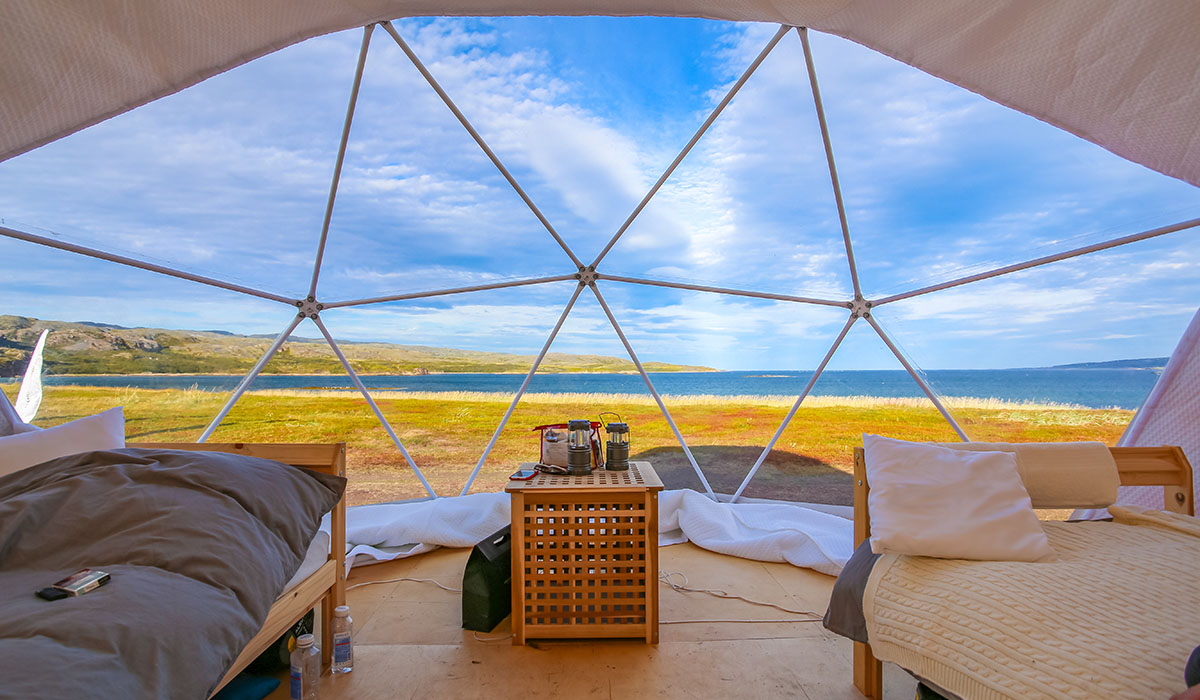 Glamping is gaining popularity with men and women of all ages as a new outdoor-style camping. This series will present the characteristics and advantages of glamping, as well as the key points to check when looking for glamping sites you're going to love. We will also introduce popular glamping facilities in the Kanto area, within two hours' drive from the city center.
Characteristics and Advantages of Glamping 
"Glamping" is a compound word coined by combining "glamorous" and "camping". It's a new style for getting outdoors, and spending enjoyable time in luxurious spaces amid nature. The greatest advantage of glamping is that it's easy to go. It doesn't require any knowledge or experience of the outdoors, or any camping equipment. Just stuff a change of clothes and your own necessities in a bag and you're ready to go! It's like "empty-handed camping".
The equipment provided by glamping facilities is as comfortable as you'd find in a hotel. Rooms are air conditioned, and there are clean toilets and baths. Staff provide attentive service, so even families with young children can stay with no worries. Another attraction of glamping is food. It is increasingly common for glamping facilities to work hard on their food-related content, with offerings like barbecues of fresh local ingredients and splendid chef-cooked menus.
Japanese glamping trends and keywords
Instagrammable experiences such as BBQ using fancy ingredients, going on hot air balloons to see the sunrise and kayaking in the river.
Staying at specially structured "mobile house" instead of tents.
Glamping sites have clean toilets – automatic lights, washlets and heated seats.
While spending time comfortably on a clean sofa and bed (like a hotel), campers can still feel nature such as color of the sky, sound of the wind and water, and singing of insects.
Campers can come free-handed and go.
A photogenic space made by professionals. Accommodations include not only tents but also trailers and tree houses.
Glamping tents with air conditioning. A fashionable interior design with furniture, bed, TV, and refrigerator.
Beach glamping experience.
Kitchen tools and equipment like outdoor pizza ovens create a fancy atmosphere.
Guests' experience with nature or the night sky.
Avoiding the "three Cs" (closed spaces, crowded places, close-contact settings) for no coronavirus worries
Most glamping facilities where you can enjoy the outdoors with elegance are built in locations with rich natural environments, like the seaside, mountains, and highlands, far from crowds. If you only travel in your own car, with family members who usually live together, you can avoid infection risks in transit.
Most glamping facilities have independent accommodations, like cottages or large tents, dotted around in spacious sites. If you choose facilities like that, you can avoid getting into "3C" situations with other guests. Check websites and other information about facilities carefully, and pick places which are careful about staff health and hygiene, and take measures against 3C conditions.
Forget about everyday life with all its restrictions, and go for a glamping experience which will give children and adults alike the chance to play to the full, let go of stress, and feel the wonder of the great outdoors, with barbecues and sea and mountain activities.
Our next installment will present the key points to check when looking for glamping sites you're going to love.
To be continued.