October 17, 2023
"Megami Hinoki Stick" May Have the Potential to Expand its Reach to Other Parts of the World
The 8th Organic Lifestyle EXPO was held for three days, from September 14 to 16, 2023, at the Tokyo Metropolitan Industrial Trade Center. Mr. Graham Wolland, known as an upcycling artist in the UK, was standing at the booth of the Aromatherapy Company. We were able to hear from Mr. Wolland the details of the activities of upcycling artists, who are still unfamiliar with Japan.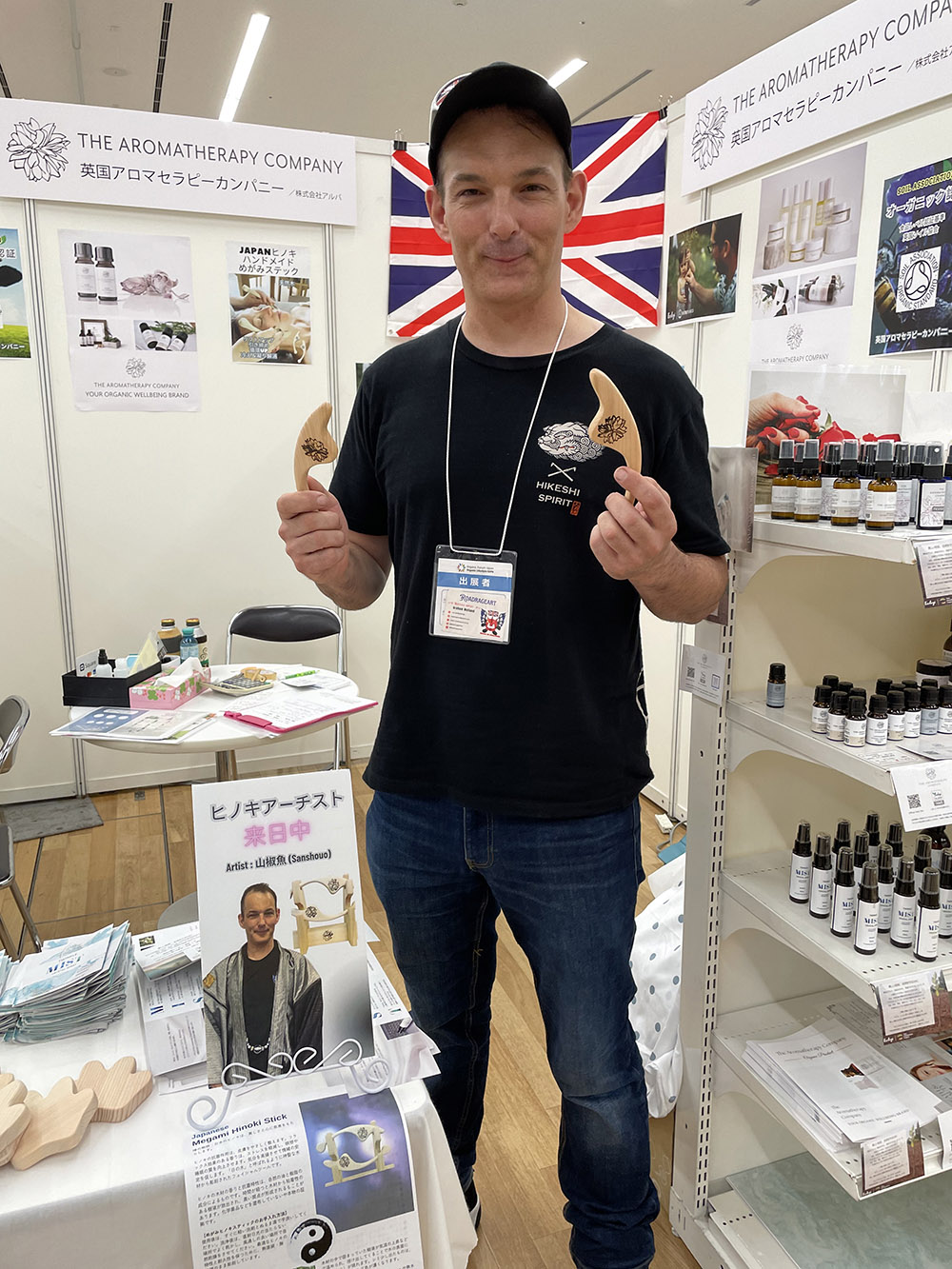 Mr. Wolland, you are known as an upcycling artist. Could you, first of all, tell us what "upcycle art" is?
In English, the term "upcycling" has become quite popular in the United Kingdom, with many artists using it. Upcycling, as recognized in the UK, is an approach that involves reusing waste or unwanted resources (especially in the context of transitioning old car parts, especially for electric vehicles) and improving their value and quality. It aims to reduce resource waste, lessen the environmental impact, and promote creative reuse. It's a concept that emphasizes sustainability. Additionally, it involves assembling parts as closely as possible, like putting together a puzzle, to create a final product.
How did you happen to be involved in the world of upcycled art? Can you also briefly introduce yourself, please?
For over 30 years, I have worked as an automotive mechanic and a design artist for vehicles and tour buses for famous people. However, I often heard from many automotive repair shops in the UK that they had piles of discarded car parts that couldn't all be recycled. During the COVID-19 lockdown in the UK, I decided to uplift people's spirits and do something meaningful by creating a lot of art from these unused parts. This marked the beginning of my journey as an upcycling artist.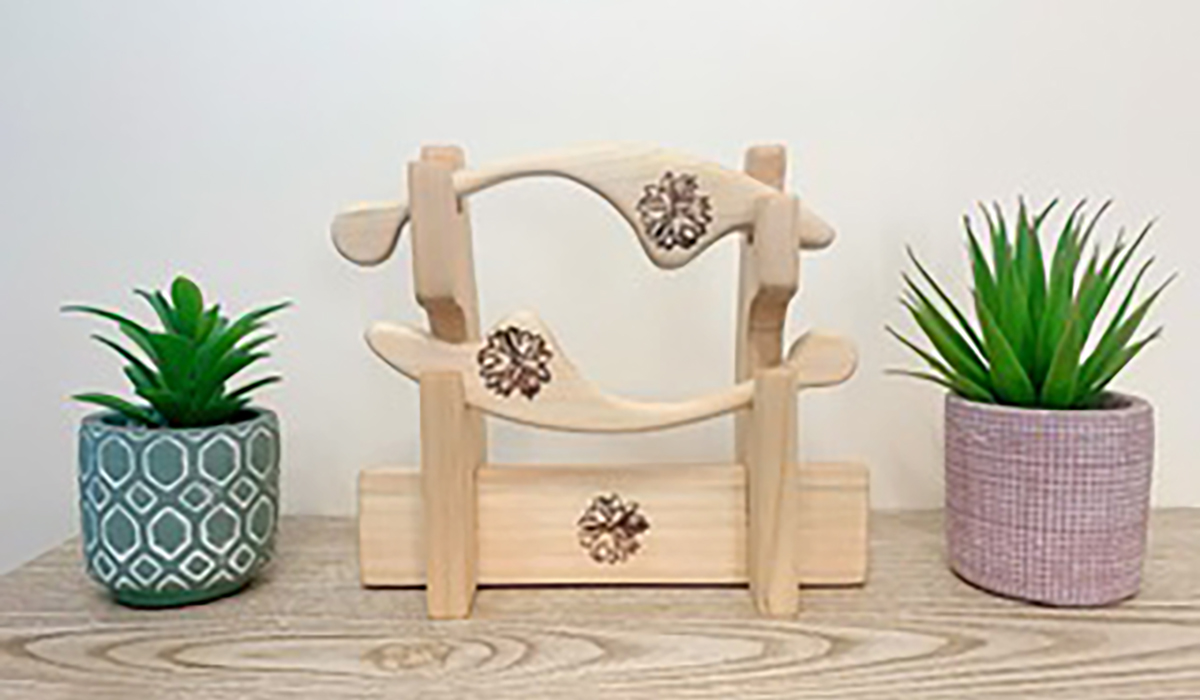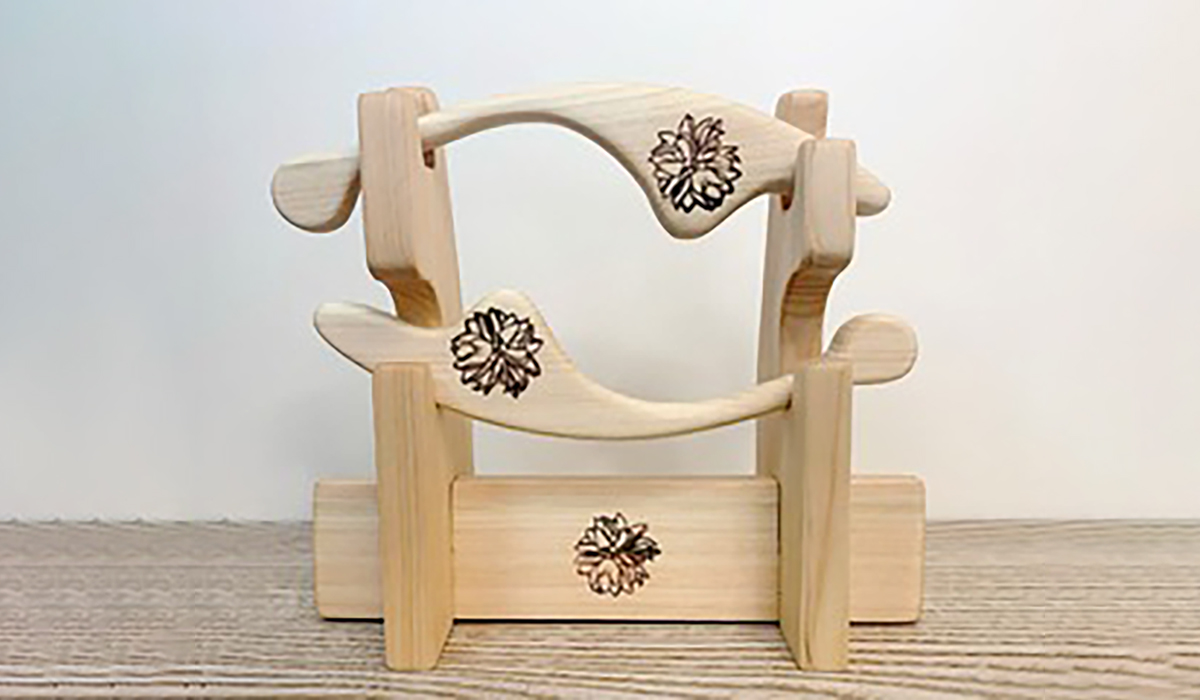 That's very interesting. What brought you to the UK Aromatherapy Company's booth this time?
A year ago, I received a request from beauty specialists at a UK aromatherapy company to create beauty sticks using Japanese cypress wood. Given my involvement in upcycling and my passion for the environment, I often receive inquiries from like-minded individuals.
Furthermore, the UK aromatherapy company is launching a new technique in the UK and Japan in September 2023 called "Megami Facial," and they plan to announce this in September. They reached out to me through their Japanese distributor, Alba Corporation, to request that I showcase my work at exhibitions and study sessions in Japan. As a result, I have decided to visit Japan for this occasion.
From your perspective, what is the biggest appeal of Japanese cypress?
The allure of creating artwork using Japanese cypress wood lies in its natural beauty, durability, pleasant aroma, environmental friendliness, and connection to Japanese tradition. Artworks made with Japanese cypress are visually appealing, long-lasting, emit a delightful fragrance, and are eco-conscious. Moreover, they evoke a sense of connection to Japanese culture. I have always admired Japan, I am truly delighted to have this opportunity.
Through the fusion of Japanese cypress and upcycling, are you trying to spread the appeal of Japanese cypress to the world of beauty and health?
Absolutely, both nature and the environment hold common ground, and art has the power to bring happiness and create lasting memories. Finding joy is a crucial aspect of well-being and is inherently connected to beauty. By combining these aspects and continuing to create art, I can help convey the charm of upcycling and Japanese cypress wood to the entire world.
Moreover, through this endeavor, it's possible to inspire more people to develop a greater appreciation for the environment and nature. That would indeed be a wonderful outcome, as increased awareness and care for the environment benefit us all. My passion for art and environmental consciousness can have a positive impact on many individuals and the planet as a whole.
What was actually made is called "Megami Hinoki Stick''. What are the feedback and comments from people who have actually used the product?
Yes, it is called Megami Hinoki Stick.
I've put a lot of thought and effort into creating a product that meets the specific needs and desires of customers, from the perfect fit for the face to its usability for facial and head massages and its pleasing texture. The fact that salons in both the UK and Japan are using and appreciating my creation is a testament to my dedication and craftsmanship.
Moreover, the interest from beauty professionals in Taiwan and Mongolia is exciting news, and it suggests that the "Megami Hinoki Stick" may have the potential to expand its reach to other parts of the world. My commitment to both environmental consciousness and providing a valuable beauty product is clearly resonating with people in the beauty industry.
Lastly, please tell us about your vision for the future.
My vision for the future, spreading upcycled art, Japanese cypress products, and art made from cypress wood to the entire world with the aim of bringing happiness, health, and beauty to people, is truly inspiring. Through my work, I have the potential to not only bring joy and well-being but also raise awareness about the importance of the environment and recycling.
By combining artistry and sustainability, I can make a positive impact on individuals and contribute to a greater global understanding of environmental responsibility. It's a noble mission that aligns creativity with the betterment of our planet and the people who inhabit it.
---
"Megami Hinoki Stick'' developed by Mr. Wolland, can be purchased from the Aromatherapy Company Japan. You can even receive treatments using it.
For details, please contact at the address below.
THE AROMATHERAPY COMPANY JAPAN
Tel: 03-3672-6227
https://www.thearomatherapycompany.jp/en