July 20, 2021
Vegan Bistro Jangara is Surging in Popularity
Vegan Bistro Jangara aims to be a comfortable dining space which pursues delicious cookery from plant-based ingredients. Deputy manager Kazuo Anzai, nicknamed Kazu, is the key person in that effort.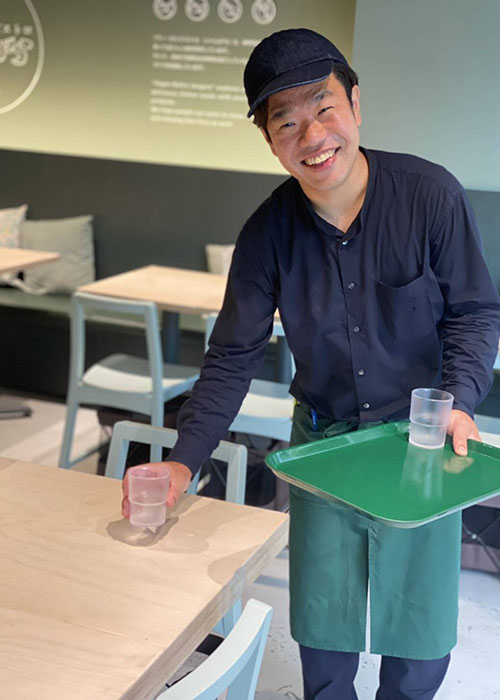 Kazu, what's your greatest strength?
My smile is my number one strength. I want my smiling face, as I serve our customers with tasty food and hospitality, to send them home feeling good. I see it as my role to present a pleasant and comfortable space, so people can enjoy their time with us. I go about every day with the spirit of an entertainer.
So what's your specialty as an entertainer?
Did you know that when a really delicious, beautiful beer is poured, no air bubbles stick to the glass or tankard? Beer with no air bubbles in the head tastes really good. Pouring and serving draft beer to customers with close attention. I strive every day on things like washing the tankards and adjusting cylinder gas pressure so that our guests can drink great-tasting beer. In fact, we are the first ramen restaurant to be certified by Suntory as a "Kamiawa Master". We've also been endorsed as an outstanding establishment for highballs and super-carbonated highballs.
Are you getting customers coming in amid the Covid-19 crisis, and who are they?
This restaurant opened on March 22 this year. We were publicizing it on social media ahead of the opening. There are a lot of vegan people. Around 80% of them are women in their 20s, 30s, and 40s. More and more of them are bringing their families. Some days, foreigners account for as much as 70% of our diners. I think word of mouth about us is spreading among foreign residents in Japan. The grill burger and patty burger are popular. Ramen is more popular with Asians.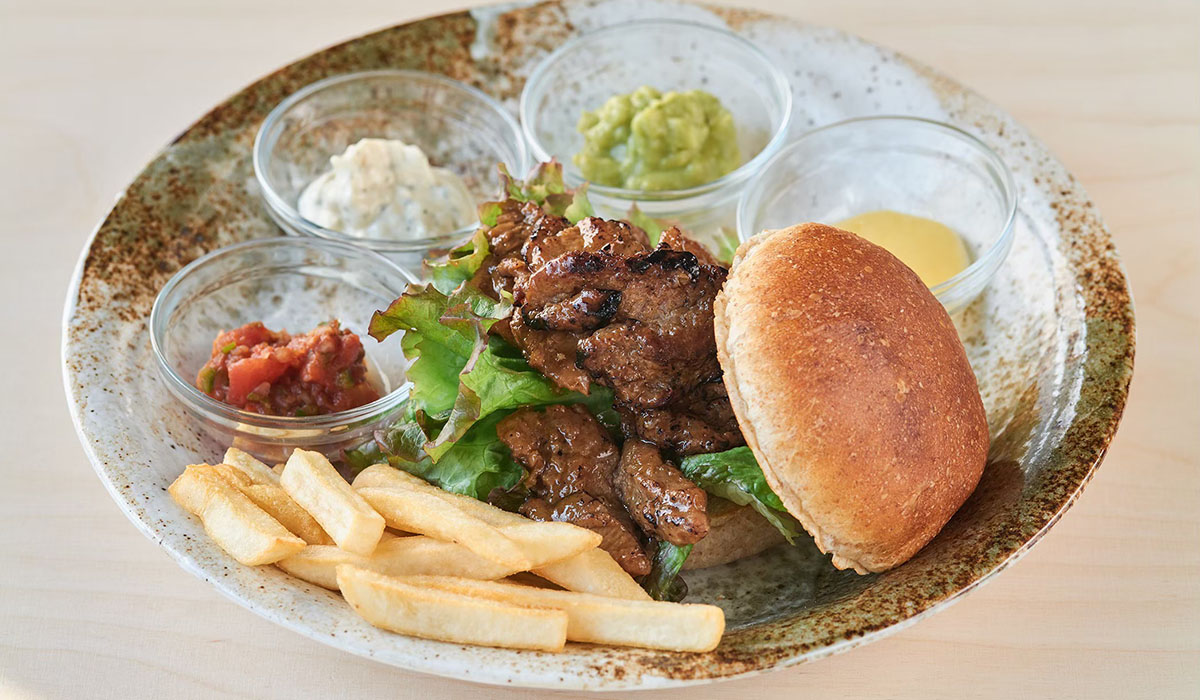 Grilled Soy Meat Burger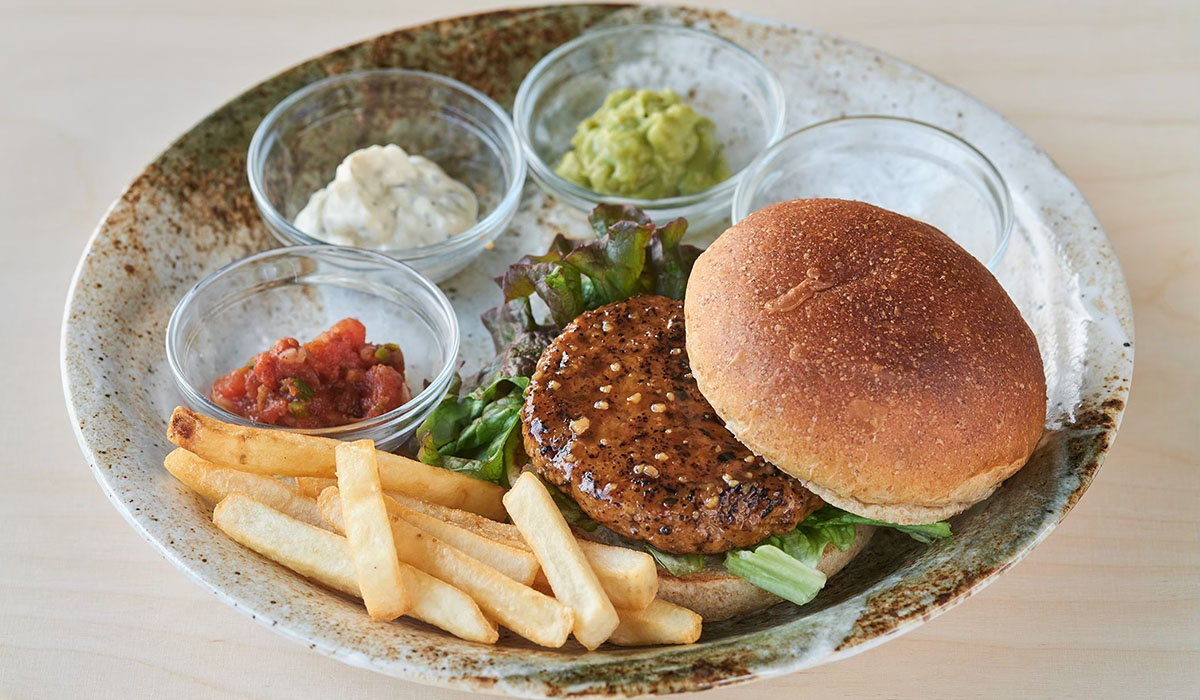 Patty Burger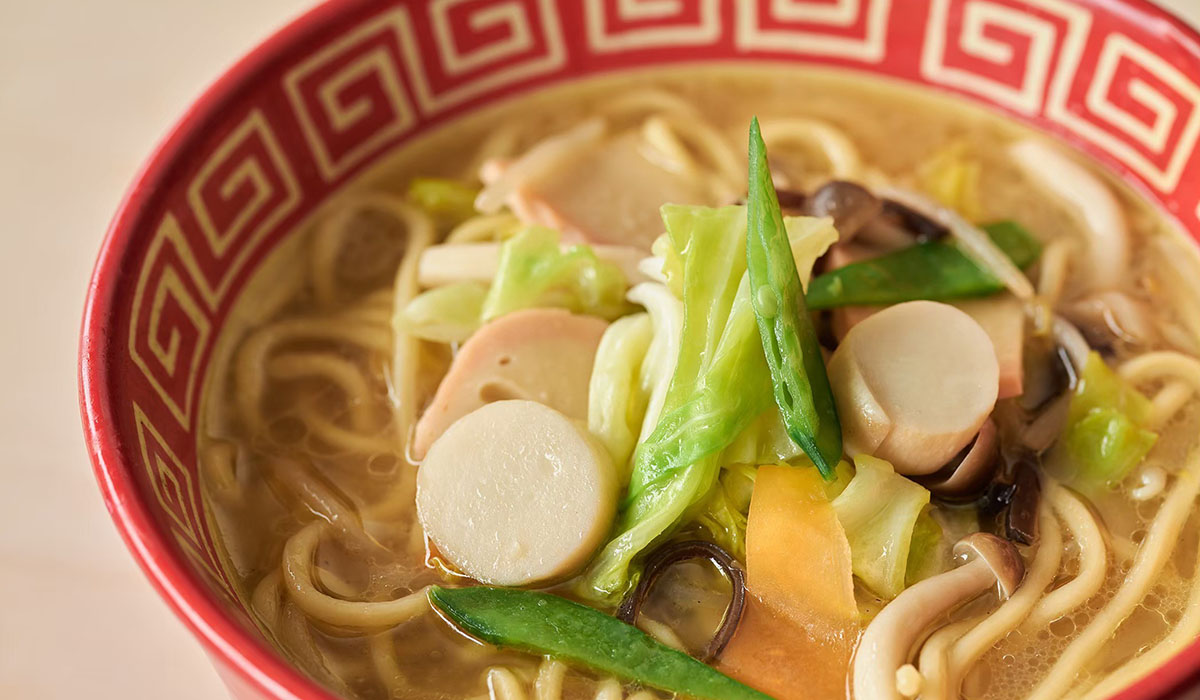 Champon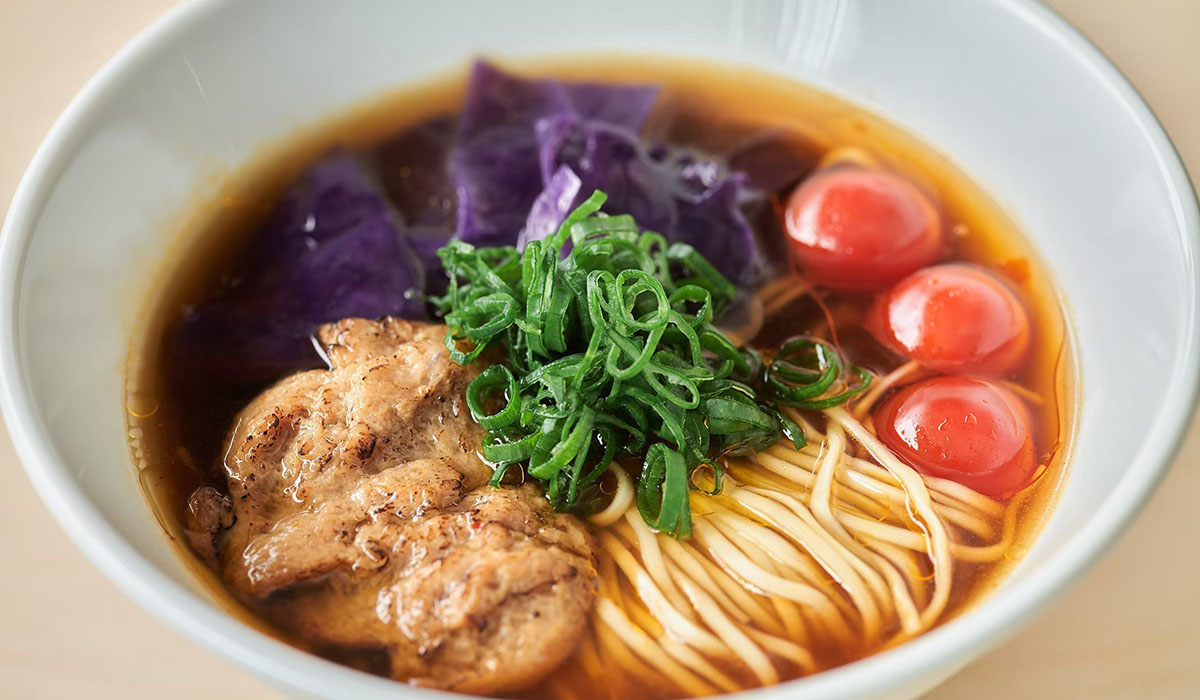 Taiwanese spicy noodle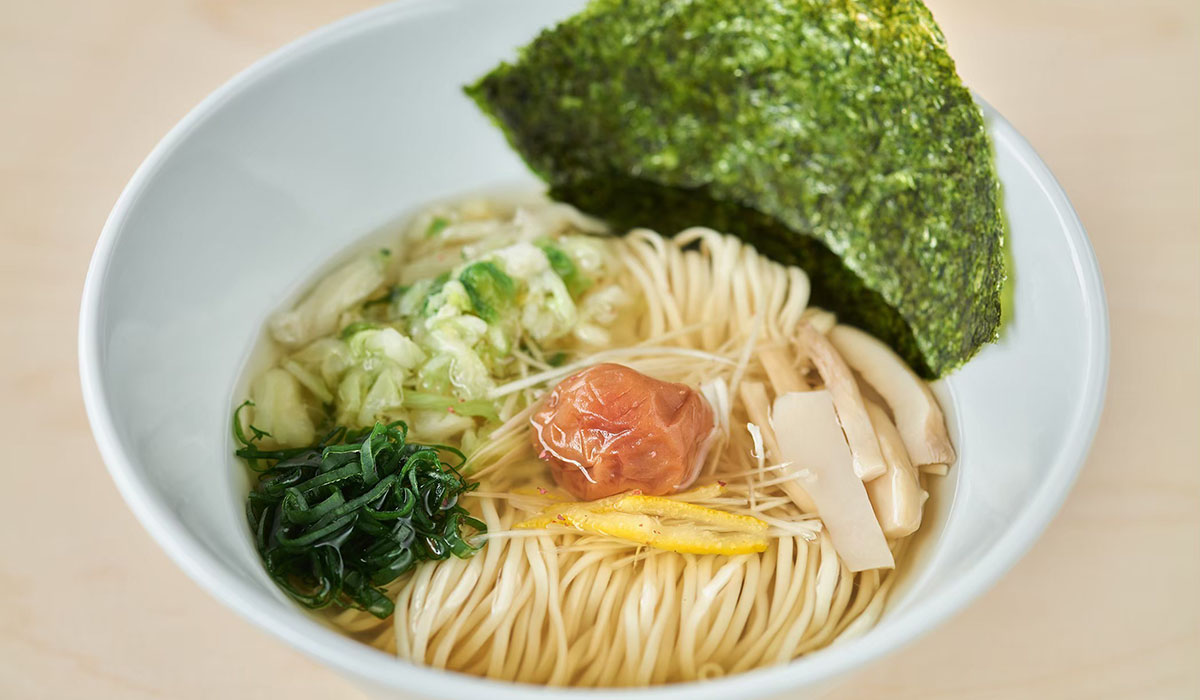 Non-oil ramen noodle with Nanko pickled plum
What's the most popular thing on the menu?
It's "Gyu Gyu Grill", that is a sizzling grill. At first glance it looks like yakiniku-style hotplate cooking, but it's made with soy meat, and the texture is just the same as meat. That's the most popular thing with customers from Japan and overseas.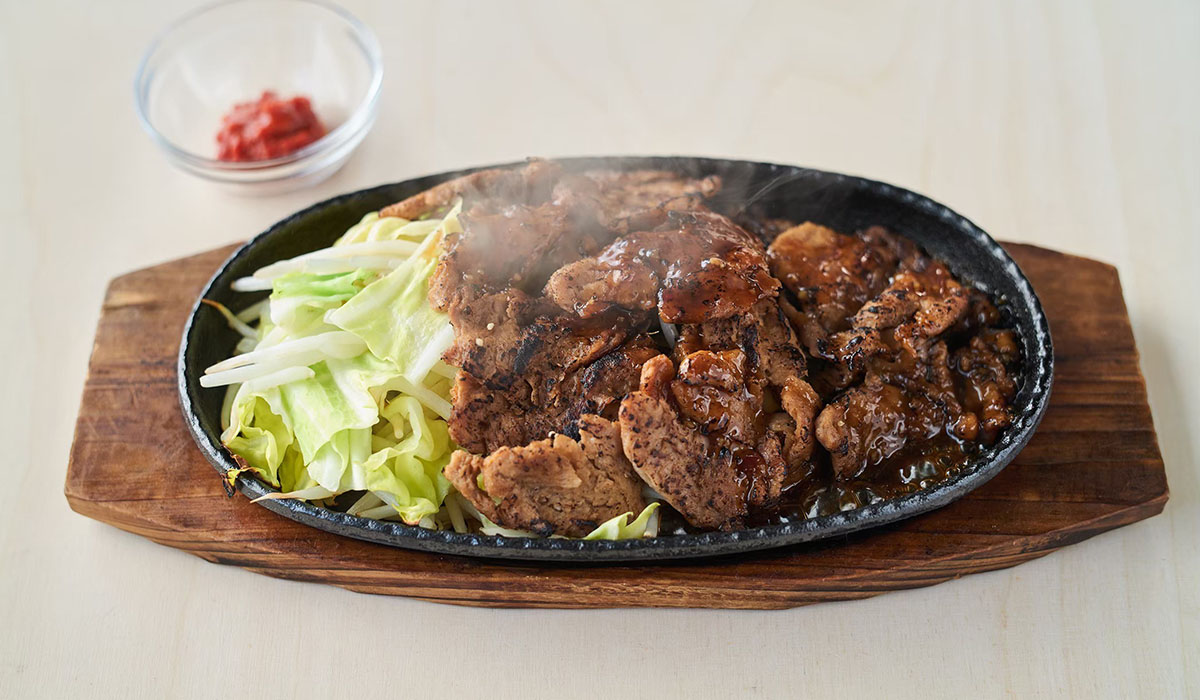 Juju Grill ~Soy meat grilled on an iron plate~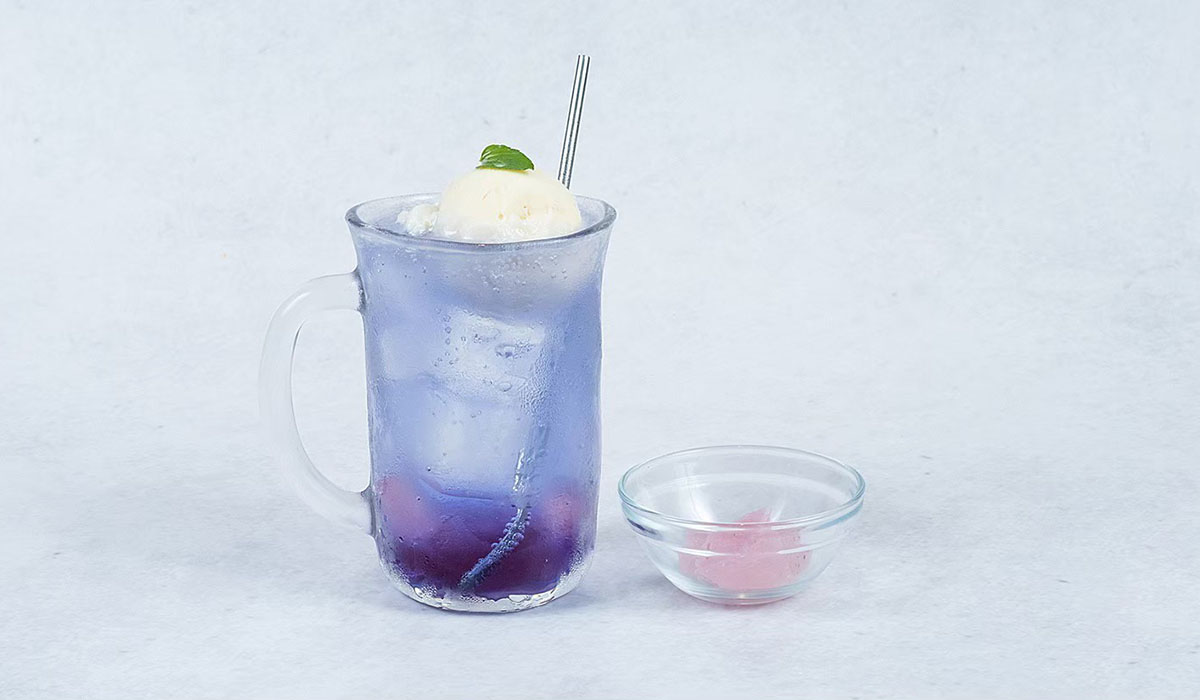 Indigo blue cream soda
What do you do to make customers feel they'd like to visit your restaurant again?
I want to focus everything on hospitality. That means greeting them when they come in, and seeing them off with a smile when they leave. Also, it seems that a of people think that vegan food and vegan ingredients don't taste good. They think it's bland, nothing but vegetables, something missing... but I want to show them it's not like that.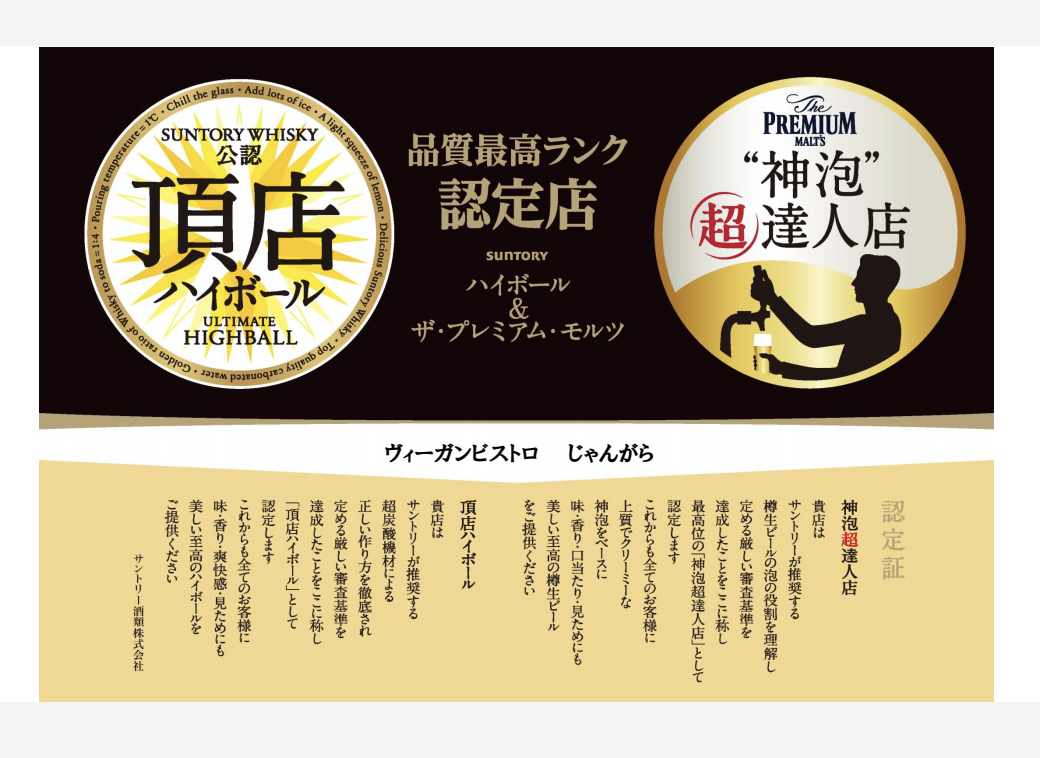 Accredited Top-Quality Restaurant by Suntory
-Ultimate Highball and The Premium Malts-